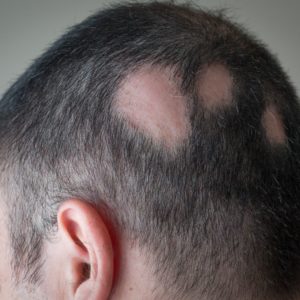 While it is normal for the scalp to lose up to 100 hairs a day, patients who are experiencing more severe hair loss and thinning may need to work with a doctor to understand their condition. Alopecia, or hair loss, can impact children and adults and can cause patients to feel self-conscious about how they look and what is happening. Hair loss may happen either gradually or suddenly, and in some situations, can be a temporary problem. With a diagnosis from a medical professional, patients can work with their doctor to find a solution when possible. The professionals of The Menkes Clinic are here to provide a wide selection of treatment options for patients to choose from once the source of the issue is determined.
What are the symptoms of alopecia?
Alopecia may result in:
Sudden or gradual loss, shedding, or thinning of the hair
Balding in large patches of the scalp, beard, or eyebrows
Hair loss across the body, including the loss of eyelashes or nose hairs
What can cause alopecia?
There are a range of situations that may be leading to the development of alopecia. Alopecia may be caused by:
Certain cancer treatments, including chemotherapy and radiation
Hair disorders, including autoimmune diseases
Genetics/hereditary hair loss and thinning
Certain medications, including those used for high blood pressure, heart problems, and depression
Hormonal changes associated with pregnancy, childbirth, or menopause
Changes in diet which reduces necessary vitamins and minerals including iron and vitamin D
Emotional/physical shock caused by major illnesses or childbirth
Infections of the scalp, such as ringworm
Certain medical conditions, including lupus, anemia, and thyroid disease
What can be done about hair loss?
Alopecia is a pretty straight-forward condition, and once the cause is determined, it can be easy to treat. Once a definitive diagnosis is made, our team may suggest a variety of  solutions which may include:
Medication
Topical solutions
Phototherapy
Light therapy
Find a solution to your condition now!
Alopecia can be an embarrassing and frustrating condition for both men and women. Mountain View, California area patients who are struggling with alopecia are strongly encouraged to take the time to learn more about their condition and find a solution that works! Our doctors at The Menkes Clinic are here to help at 2490 Hospital Drive, Suite #201 and can be reached by phone at (650) 962-4600.