Miradry®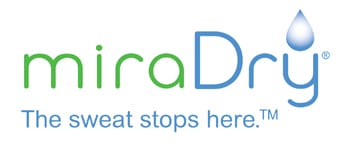 Sweating is a natural and necessary body function. It can also be an embarrassing condition that makes an individual feel self-conscious. At The Menkes Clinic and Surgery Center in Mountain View, our professional dermatology team understands skin and offers life-enhancing treatments in medical, surgical, laser, and cosmetic dermatology.
Dr. Andrew Menkes and his colleague, Dr. Lillian Soohoo, are pleased to offer a comprehensive array of advanced dermatologic care, including a new treatment to eliminate sweat in the underarms.
How it works
miraDry® is a cosmetic, non-invasive treatment that has been cleared by the US Food and Drug Administration (FDA). It delivers focused energy to the dermal fat area where nearly all sweat glands are located. It safely and permanently eliminates the odor-causing and unneeded sweat glands through precisely controlled heat. Once the glands are destroyed, they do not regenerate, so patients enjoy permanent results.
---
What to expect
The miraDry® treatment takes about an hour to complete. You will be placed in a reclined position and the underarms will be numbed with a topical anesthetic so you will experience little to no discomfort or pain. After the treatment, you may experience soreness, numbness, tingling, and some swelling in the area. These effects typically resolve within a few days to a couple of weeks.
Benefits
The outcome can be achieved in as little as one treatment
The results are permanent
You may never need antiperspirants again
You enjoy immediate results
A delightful side effect of treatment is that miraDry® also permanently reduces hair growth in the treatment area
No more wet circles on your clothes from sweating
You can wear delicate fabrics such as silks without fear of sweat damage
Feel fresh and clean all day – every day
To learn more about innovative miraDry® treatment at The Menkes Clinic and Surgery Center, contact our friendly and professional staff at (650) 285-4661 today.
---
miraDry® – Warm Weather Essentials (Coffee With America, TV Show)
Watch this interestingly educational & informative video on sweat control miraDry as a warm weather essentials as appeared in Coffee with America – TV Show
miraDry: Safe, permanent elimination of underarm sweating in one to two treatments
In this brief video, Dr. Andrew Menkes explains how miraDry focused energy treatment targets sweat and odor glands under the arms, without harm to other tissues. With local anesthetic, miraDry is painless, and the appointment takes only about an hour. Many patients need just one session for immediate, permanent results. With miraDry, you can expect 80 to 90 percent reduction in sweating, and you will probably never need deodorant again!
---
Lucy's Happy Experience with miraDry® at The Menkes Clinic & Surgery Center
The Menkes Clinic & Surgery Center in Mountain View CA presents Lucy's Happy Experience with miraDry
miraDry® Testimonial by Kendel Browning (Staff Member)
Do not miss this genuine testimonial video by Menkes Clinic staff member Kendel Browning on miraDry – the permanent elimination of underarm sweating
---
---
MiraDry Before & After