Microneedling is a minimally invasive microneedling procedure that involves a hand-held device that contains very fine needles. As a skin therapy procedure, microneedling has been around for more than 60 years. However, in recent years it has become popular as the dermatology industry has begun to produce more devices and systems to deliver the treatment.
What To Expect During Microneedling
During a microneedling appointment, a handheld device will be gently passed over the skin by the Aesthetician. The device contains very fine needles that create tiny punctures in the skin. This activates the body to produce collagen to heal the wound. As the collagen and elastin are produced and heals the tiny puncture, it also improves the skin's texture and elasticity while reducing scars, wrinkles, pore size, and more.
It's important to note that the tissue of the skin is not damaged during the microneedling treatment. The skin injuries created by the needles are very, very small, they close almost immediately, and the skin begins to heal. Some patients may experience some slight redness following the microneedling procedure, similar to that of a mild sunburn. It will go away quickly. The treatment is not painful. Some compare it to a microdermabrasion therapy while others compare it the feel of a cat's tongue.
Microneedling Is Part Of An Established Skin Plan
While microneedling is a great therapy on its own because it sparks the production of collagen, it can also be used with topical lotions, creams, or gels, as it will allow them to be absorbed into the skin faster and more effectively, leading to more dramatic overall results. Microneedling can be used on nearly all parts of the body. Most frequently, microneedling treatment is delivered to the face, neck, chest, and arms.
Benefits Of Microneedling
Microneedling can be used to address multiple skin imperfections including fine lines, acne scarring, and pore size reduction
Microneedling is minimally invasive, requiring no incisions, anesthesia or recovery time.
Microneedling Before & After Photos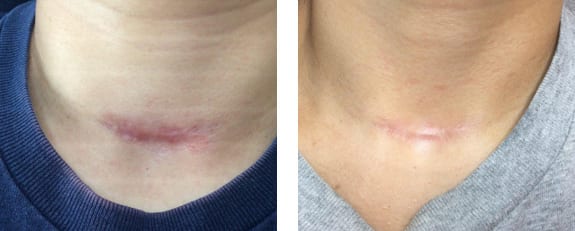 If You Are Interested In Microneedling, You May Also Be Interested In: