IPL treatment is a non-invasive treatment that employs high-intensity pulses of light to improve the appearance of a number of skin problems including, but not limited to, hyperpigmentation, acne scars, and fine lines. Give us a call at (650) 962-4600 to schedule your IPL treatment consultation with Dr. Andrew B. Menkes!
How Does IPL Treatment Work?
The smooth, flat glass handpiece is a precision light generator that emits pulses of intensely bright white light (ie. intense pulsed light) against the skin. Through IPL treatment, the machine generates multiple wavelengths of light in pulses designed to dissipate brown hyperpigmentation, break up small blood vessels that lie just beneath the surface, and encourage the production of collagen within the cells while ensuring tissue at the surface remains unaffected.
Intense Pulsed Light™ Therapy (IPL Treatment) Before & After Photos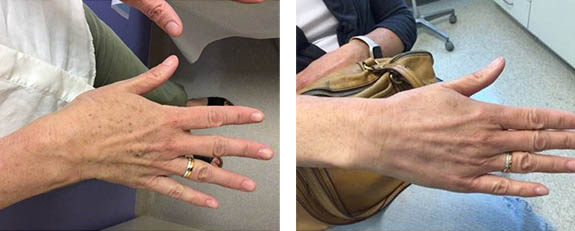 What To Expect During IPL Treatment
Before the IPL treatment procedure, the practitioner will apply a thin layer of clear gel to the areas to be treated. The gel is cool and soothing and assists in the efficacy of the treatment. The practitioner moves the hand piece slowly over the treatment site on the skin. The light is administered in short pulses and you may experience a warm or hot sensation when the laser is fired.
The IPL treatment lasts 20-60 minutes, depending on the treatment areas. An IPL treatment requires no downtime, so patients need not interrupt their daily routine. An increase in noticeable results will occur with more treatments. Although some patients experience their desired results in 1-2 sessions, most patients require a series of 5 treatments.
What Are The Benefits Of IPL Treatment?
Benefits of IPL treatment include, but are not limited to:
A gradual evening out of skin tone
A gradual decrease in hyperpigmentation or redness
Improvement in the appearance of pore size and a reduction in the appearance of fine lines
Patient Testimonials
"Dr. Menkes is great in listening to patient concerns and providing effect treatment plans; short term and long term. Dr. Menkes is compassionate and understanding of discomforts that maybe associated with different conditions. Overall very pleased with my two visits with Dr. Menkes." - V.J.
Call Dr. Menkes For IPL Treatment In Mountain View, CA!
Interested In IPL Treatment? You May Also Be Interested In: