The term "facelift" refers to a surgical procedure where the upper, middle, or lower portions of the face are repositioned to place the skin and tissues underneath to where they were when the patient was younger. Our key intention of the procedure is to make the results look natural, an aim accomplished by repositioning these tissues in the right direction. In a proper neck lift and facelift, the vector or direction of repositioning or pulling is more vertical than previously believed. It is the improper repositioning of tissues that makes people look unnatural or gives them a "pulled too tight" appearance. Others have described the look as someone appearing to be standing in a wind tunnel.
If done properly, the facelift and/or neck lift serves as a fantastic procedure for producing excellent, natural-looking results – something we have found to be the case in our practice. Our patients will attest to the fact that a properly done facelift is one of the most rejuvenating procedures in all of cosmetic medicine.
The Facelift & Neck Lift Procedure
At The Menkes Clinic & Surgery Center, a facelift and/or neck lift is performed exclusively under local anesthetic. This surprises some people and even some surgeons who believe that it is not possible to keep the patient comfortable and pain-free with only local anesthetic during such a procedure. We do sedate our patients, but we don't put them to sleep. In fact, under local anesthetic, the patient is completely comfortable and feels no pain at all. The reason we do it this way is for safety and rapid recovery. We believe there is no reason to administer a drug, to sedate a patient intravenously, for a facelift or neck lift procedure and thus to entail greater risk.
One of the other advantages of using a local anesthetic is that it has a small amount of adrenaline or epinephrine mixed in with it. This decreases bleeding during the procedure to almost nothing and, in addition, decreases the amount of bruising after the procedure. The other thing that surprises patients about our facelifting technique is the minimal amount of post-operative pain they experience. Almost nobody requires pain pills even though we give them to the patients in case they may need them for minor discomfort.
Dr. Menkes is great in listening to patient concerns and providing effect treatment plans; short term and long term. Dr. Menkes is compassionate and understanding of discomforts that maybe associated with different conditions. Overall very pleased with my two visits with Dr. Menkes. - Veronika J.
What To Expect During A Facelift Or Neck Lift
The typical face and/or neck lifting procedure takes around 2.5-3.5 hours. The patient is prepped before surgery by receiving intramuscular injections and local anesthetic. Once the procedure begins, it typically takes around 2.5-3.5 hours.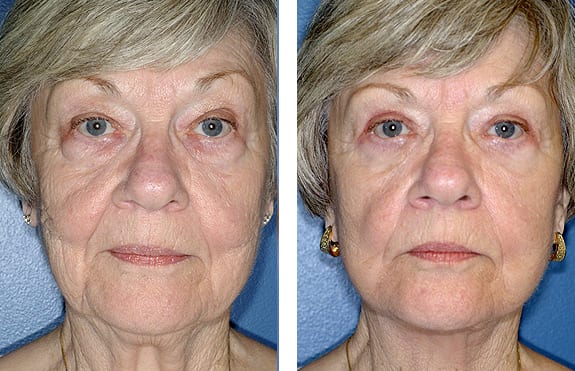 After the treatment, a head garment is worn around the clock for 4 days, with the exception of cleaning and showering, in order to minimize swelling. Patients are also expected to sleep with the head elevated. Although it varies from patient to patient, we recommend 2 weeks away from work, social activities, and exercise in order to ensure the safest recovery and the optimal result. Patients will see final results in 6 months.
Facelift And Neck Lift Benefits
Dr. Menkes has 30 years experience as a dermatologic surgeon
Dr. Menkes has performed thousands of facial surgical procedures
We have an ongoing commitment to continuing education in the latest state-of-the-art technologies
Proven natural results among our patients
Caring, comprehensive post-operative follow-up visits by the doctor
Surgery center on-site
The facelift or neck lift is performed under local anesthetic, which enhances safety, decreases bruising and swelling, quickens recovery with less downtime and minimal post-operative discomfort
Who Is An Ideal Candidate For A Facelift?
To be a good candidate for these surgeries, patients need to have good elasticity in their skin. Sagging is a given, but elasticity is not. If you want to test if your skin still has that elasticity, you can try pinching it lightly. If it bounces back and doesn't hold the pinch impression, you still have elastic skin. This will react well to the changes made by Dr. Menkes.
Reality is that most people over the age of 45 could probably benefit from a facelift. Facelifts are still one of the most effective, satisfying cosmetic procedures, despite the fact that facelifts are usually considered to be the original cosmetic surgery, first done in Germany in 1901. A facelift with Dr. Menkes will take from 10-15 years off your facial age.
It is important to note that facelifts address aging from the under eye areas down to the neck. They don't target the brows and forehead. That's because the upper third of the face is the expressive area where we form all of our expressions. These movements are controlled by different muscles than those on the mid to lower face.
Can A Neck Lift Be Performed On Its Own?
Dr. Menkes performs some degree of neck rejuvenation with virtually all of this facelifts. That's because it doesn't make sense to rejuvenate the face, yet stop at the chin. A neck lift cannot be a stand-alone procedure, however. It must be a part of a facelift.
What Are The Risks Of Facelift Surgery?
The risks are the same as with most cosmetic surgeries, including excessive bleeding, infection, hematoma, uneven discoloration, and persistent swelling. With facelifts, nerve injury due to re-draping is also possible. Patients often feel a tingling or numbness along their incision sites. This is a sign that your nerves are adjusting to the trauma created by the procedure. While these locations may itch for a period of time, this will pass. Otherwise, a facelift with Dr. Menkes is a safe and satisfying procedure.
What Is Recovery After A Facelift Like?
These are not painful recoveries, but they will test your patience at times. That's because of the swelling. This can return late in the day or at night for weeks. This will resolve, but the lingering swelling can be frustrating.
Otherwise, initially, you'll have a head garment on when you first return home. This is there to help minimize swelling. You'll wear it at all times for 4 days, except when washing your face or showering. There will be a good deal of tissue trauma, swelling, and bruising. Your first week or so you'll need to sleep with your head elevated, making sure not to roll over onto your face. The first few days will be the most difficult, but then you'll feel better quickly. Your face may feel stiff, tight, even distorted, but this will relax with a little time, usually from 3-6 weeks. Your neck could also feel some tension and tightness.
As you recover, there will be some numbness in areas. This is normal and is a result of the facial nerves adjusting to the re-draped skin. Most patients can return to work by the third week after surgery.
What Are Some Alternatives To Facelift Surgery?
There are not really any other procedures you can have that could cover what a facelift does, even partially. Rhinoplasty focuses solely on the nose. Blepharoplasty focuses solely on the eyes and skin around the eyes. The variety of methods used by Dr. Menkes for his facelift procedures is very successful and provides singularly unique results.
Really the only alternative would be the extensive use of dermal fillers, such as Juvederm or Restylane (and their respective families of fillers targeting different areas of the face), and RF treatments. Fillers can be used to return the volume to the cheeks, to erase lines and creases around the mouth, and even to add volume to the lips. Kybella is an injectable that can remove a person's double chin and tighten his or her profile. The problem with the use of fillers to make these changes is that they are not permanent changes. Kybella creates a permanent removal of fat under the chin, but fillers all need repeat injections after the body eventually absorbs them. So, if you go this route, you will continue these injections every year or so for the duration. RF treatments, like Thermage and Vivace, can also provide some subtle overall tightening and lifting of the treated areas.
The Menkes Clinic proudly provides patients from Mountain View, CA and surrounding areas with Facelift and Neck Lift procedures. Contact us at 650-962-4600 or request an appointment here.
Face and Neck Lifting Before & After