A skin condition that is not a threat to your physical health can still have a big impact on your emotional wellbeing. Dr. Andrew Menkes, Dr. Lillian Soohoo, and Dr. Krystle Wang at The Menkes Clinic & Surgery Center in Mountain View, CA restore self-confidence with effective vitiligo treatment.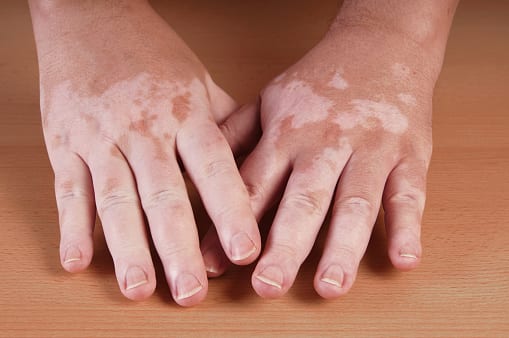 Vitiligo symptoms & causes
Cells called melanocytes produce pigment. When melanocytes die or stop producing pigment, skin develops light patches. Vitiligo is a disorder in which the immune system attacks melanocytes. It may be triggered by stress, sunburn, or chemical exposure.
"Spilt milk" patches usually appear first on sun-exposed areas – face, lips, hands, arms, and feet. The condition can progress to genitals, inside the nose and mouth, and other parts of the body. Some patients experience premature whitening of hair, eyebrows, eyelashes, and facial hair. Vitiligo can also affect the colored portion (retina) of eyes.
Vitiligo is most common in young adults, but can occur at any time in life. It is not contagious or life threatening, although lack of pigmentation can increase the risk of skin cancer in affected areas. Vitiligo does not discriminate, but it is more noticeable on those with dark skin. In most cases, skin never regains normal color.
If you start seeing loss of coloring in skin, hair, or eyes, it is important to schedule a visit to The Menkes Clinic & Surgery Center right away. There is presently no cure for vitiligo, but prompt medical intervention can slow or halt the process, and may return some color to skin. 
Your personalized treatment plan may include:
Topical corticosteroid medications.
Ointments containing calcineurin inhibitors that affect the immune system.
Light therapy. Skin is treated with psoralen, a plant-based substance that causes photosensitivity, then with controlled exposure to UVA, UVB, or excimer light. Therapy is performed several times a week for up to a year.
If loss of pigmentation is widespread, depigmentation may be an option. A lightening agent is applied to unaffected skin several times a day, until it matches vitiligo patches.
The appearance of your skin matters! Call (650) 962-4600 in Mountain View, CA for a consultation to learn more about vitiligo treatment options.