Healthy fingernails and toenails are smooth and strong, creating a protective shield over sensitive tissue and nerves. Problems with nails can be a sign of infection, injury, or overall health problems. Dr. Menkes, in Mountain View, CA, offers advanced treatment options for diseases affecting the fingernails and toenails.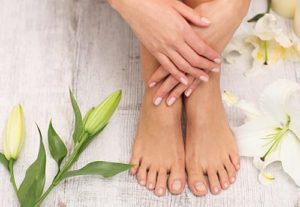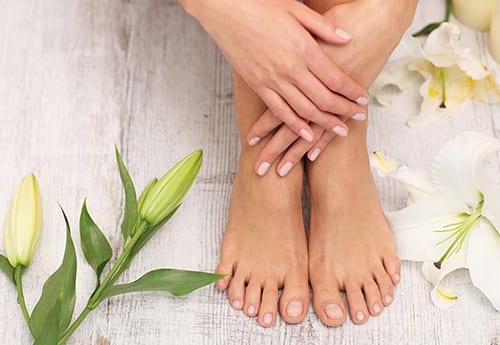 Fungal infection is most commonly seen in toenails, but it can impact the fingernails as well. The first sign of trouble is usually a yellow or white spot appearing under the nail tip. Over time, the discoloration spreads, and other symptoms develop. These may include:
Slight foul odor
Brittleness or crumbling
Accumulation of debris under the nail
Thickening nail
Thickness and distortion of the nail can become uncomfortable or painful
Bacterial infection – The first symptom is redness, irritation, and swelling around the nail bed. If the infection worsens, an abscess or pocket of pus may develop.
Nail psoriasis – People with psoriasis are susceptible to nail symptoms, including ridges, pits, and splitting.
Lifting of the nail plate – Injury or other factors can cause the nail to separate from the nail bed. Although not directly harmful, this can encourage the accumulation of bacteria and toxins. It also may be uncomfortable and cosmetically undesirable.
Ingrown nails – This painful condition may be caused by poorly fitting shoes, nail trimming techniques, abnormal nail growth, or other factors. Without treatment, it can be painful and lead to serious infection.
Discoloration – This can be caused by many things, ranging from serious health conditions to surface staining.
Changes in nail growth or structure – Abnormalities developing in the fingernails or toenails can be a symptom of systemic disease.
Many nail problems are caused by injury, exposure to infective microorganisms, or both. Use care when trimming nails and avoid biting them or subjecting them to damage. Wear gloves or shoes when needed to prevent contact with bacteria and fungus.
Fungal infections and other nail problems can be very difficult to treat with over-the-counter products. Fortunately, they are treatable with prescription medications and proper dermatological care. Dr. Menkes will begin with an evaluation and diagnostics, then discuss the best solution for your specific condition. Call us at 650-962-4600 to schedule an appointment.