Sculptra®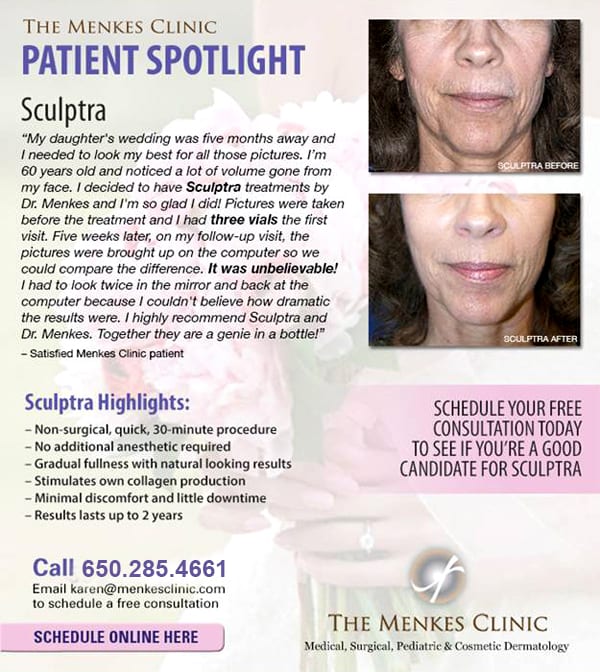 The signs of aging, like wrinkles and loss of facial volume, are due to a combination of biochemical changes and a number of other elements, including but not limited to stress, sun exposure, and environmental factors. Sculptra Aesthetic is a subtle, long-term solution for mild to severe facial wrinkles and folds. Sculptra Aesthetic will replenish volume and correct the effects of illness or weight loss, or may increase fullness to a face that is thin due to genetics or just the natural process of aging.
How it works
Sculptra Aesthetic is a facial injectable that helps to correct signs of aging by stimulating the production of new collagen, which means that the results are gradual and long-lasting. This injectable solution is the first of its kind, designed to gradually rebuild the supportive structure beneath the skin – namely its collagen structure.
What to expect
Sculptra is typically administered during three multiple sessions that are spaced roughly 4-6 weeks apart and the results can last up to 2 years. After your Sculptra Aesthetic injections, there may be mild, temporary swelling or bruising that will subside in a few hours to 1-3 days. Ice compresses are applied immediately following injections to help reduce the amount of swelling. You will be asked to massage the injection sites a few times a day over the course of 5 days. Throughout the series of treatments with Sculptra Aesthetic, our patients experience the ongoing improvement in the texture and firmness of their skin as facial contours regain a more youthful feel.
Sculptra Aesthetic benefits:
Non-invasive, non-surgical treatment
Quick, 30-minute procedure
No additional anesthetic required
Gradual fullness with natural-looking results
Stimulates own collagen production
Minimal discomfort and little downtime
Average of 3 monthly treatments
Results last up to 2 years
If you are interested in Sculptra, you may also be interested in
---
---
Sculptra Before & After