What Is Molluscum Contagiosum?
Molluscum contagiosum is the scientific term for what is basically a mild skin rash. As the name implies, this rash can be contagious. The period during which the rash is contagious is not known. Caused by a virus, molluscum contagiosum looks like tiny bumps that may resemble a wart. These small growths are called mollusca. Usually smooth and soft, mollusca may look pink, skin-toned, or white and may have an indented center.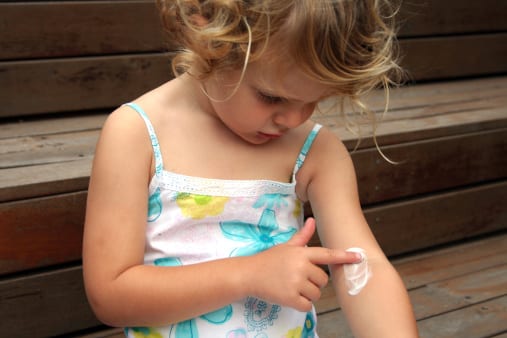 Who Is At Risk For Developing Molluscum Contagiosum?
A common skin condition in children under the age of 12, molluscum contagiosum can also develop in teens and adults of all ages. The risk of infection is increased in individuals with a compromised immune system. The condition may also be more commonly seen in athletes of certain sports, like gymnastics, swimming, or wrestling.
Causes Of Molluscum Contagiosum
The direct cause of this contagious rash is the Molluscum Contagiosum Virus (MCV). This virus flourishes in areas where there is close human contact and where the climate is warm and humid. This virus can enter the body through a tiny break in the skin, leading to infection. For some, contact with the virus will produce no symptoms because their body is immune. In cases where immunity has not developed, mollusca growths will begin to grow within two to eight weeks. Once infected by this virus on one part of the body, the resulting rash can be spread to other areas by scratching or rubbing.
The Molluscum Contagiosum Virus lives not only on human skin, but can also live on objects commonly touched by children, such as bedding, clothing, and toys. The virus can also live in water.
Symptoms Of Molluscum Contagiosum
Signs of infection from the Molluscum Contagiosum Virus appear on the skin in the form of small bumps. These bumps may have a waxy or "pearly" appearance due to the waxy core in which the virus lives. Bumps start out like small red spots, growing over a few weeks into larger growths with indented centers. Some bumps may grow as large as a pea. They may appear in clusters anywhere on the skin. In younger children, the rash usually develops on areas such as the arms, stomach, chest, armpits, or face, but may also be seen on the groin, legs, or genital area.
Molluscum Contagiosum Treatment
This infectious rash may run its course and disappear without medical treatment, with each growth slowly fading away over a few month's time. New growths, however, may appear while initial growths are dying off. This means that the total elimination of this rash can take from six months to more than a year to occur.
Your pediatric dermatologist can offer professional care to relieve the symptoms of molluscum contagiosum and expedite recovery. Some of the common treatment options include:
Prescription strength topical medication to induce immunity to the virus
Cryotherapy, in which growths are frozen
Curettage, in which growths are gently removed with a scalpel
Chemical removal using solutions containing substances such as benzoyl peroxide, tretinoin, or salicylic acid
We love to see smiles on our children's faces. Unpleasant skin conditions like molluscum contagiosum can steal those smiles, but your dermatologist offers gentle, effective care to reduce symptoms and facilitate complete recovery. If your child is experiencing a dermatologic condition, we can help. Contact The Menkes Clinic & Surgery Center for your visit today.