Cellulite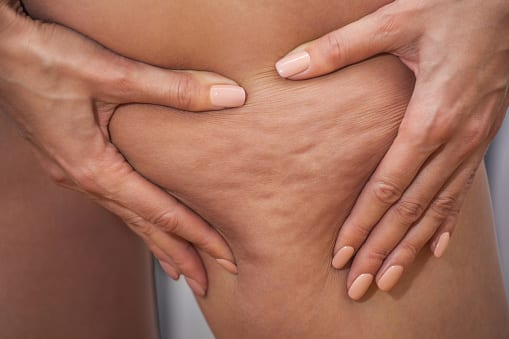 The dimpled flesh you see on thighs and buttocks is the result of fat just beneath the surface, pushing on fibrous connective tissues and causing overlying skin to pucker. Some subcutaneous fat (as opposed to visceral fat) is necessary. It helps to regulate body temperature and cushions organs. However, most people would like to get rid of the "cottage cheese" appearance of cellulite. Mountain View dermatologist, Dr. Andrew Menkes, offers an effective solution.
Causes of cellulite
Because cellulite is more common in women than in men, female hormones are believed to play a role. Women also tend to carry more weight around the hips and thighs, where there isn't a great deal of supporting scaffolding in the skin
Other factors that contribute to likelihood of cellulite include:
Heredity – a tendency to develop cellulite runs in families.
Hormonal changes from illness, medications, pregnancy, or menopause.
Fad dieting or poor nutrition.
Lack of daily hydration.
Sluggish metabolism.
Inactivity.
Poor circulation. The body requires good blood flow to produce fresh, resilient collagen for thick skin.
Skin thickness. Fibrous tissues show more readily under thin skin.
Skin color. Those with fair skin are more likely to show cellulite than people with richly pigmented skin tones.
Disproportionate body fat, overall.
Treatment options
With such a variety of causes, it is obvious that nearly anyone can develop cellulite . . . even slender individuals. Their desire for smoother, more attractive skin has created a vast market for over-the-counter preparations, devices, and workout programs intended to target cellulite. In truth, there is no scientific evidence to support the value of those methods.
Liposuction removes deep, visceral body fat. However, it does not address subcutaneous fat. Liposuction can actually worsen the appearance of cellulite.