The team at The Menkes Clinic & Surgery Center stays abreast of developments to bring the latest options in dermatology care to patients in the Mountain View, CA area. Biologics is a great example.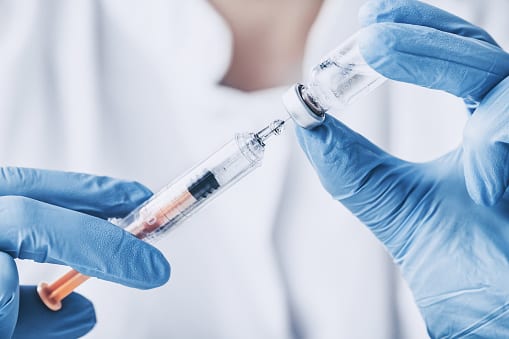 Biologic therapy is treatment that uses your natural defenses to fight infection or disease, without the side effects that may be associated with other treatments. The body produces low levels of biological response modifiers (BRMs) to keep the immune response in balance. BRMs created in a laboratory help to regulate the immune system for control of symptoms of chronic skin conditions such as psoriasis.
Psoriasis is an immune system disorder in which skin cells are produced too rapidly. The body cannot shed old cells as fast as new ones reach the surface. They pile up into silvery, scaly plaques and inflamed lesions. Skin may itch, burn, crack, and bleed, and psoriasis can affect fingernails and toenails. Some people develop joint pain (psoriatic arthritis) from the condition. Biologic therapy blocks T-cell receptors and proteins in the immune system that trigger this response. It is appropriate for moderate to severe cases that do not respond satisfactorily to conventional treatments.
Treatment begins with in-depth evaluation of your skin and symptoms to make an accurate diagnosis. Then, the doctor does a thorough health screening, and may recommend liver function testing. If you are a good candidate for biologic therapy, the medicine is given at specific intervals, by injection. Depending on the medication and frequency, you may come to the clinic for treatment, or receive instruction for self-administered injections. Biologic therapy can be used alone, or in combination with other systemic psoriasis drugs, topical medications, and laser or light treatments.
Benefits of biologic therapy include:
FDA-approved
Control of symptoms
Fewer outbreaks
Enhanced quality of life
Low risk of side effects
This course of treatment addresses underlying mechanisms that cause immune system dysfunction and inflammation. Immunotherapy is showing much promise in treatment of other skin conditions, too.
Call 650-962-4600 to schedule an appointment with Dr. Menkes, Dr. Wang, or Dr. Soohoo.