Psoriasis is the most common autoimmune disease in the United States and affects both children and adults. Its prevalence is approximately 2% or 7.5 million Americans. Nearly 3% of the world's population, or 125 million people, have psoriasis. It is a chronic, lifelong disease that varies in severity and response to treatment from person to person. Although not contagious, its exact cause is not entirely known.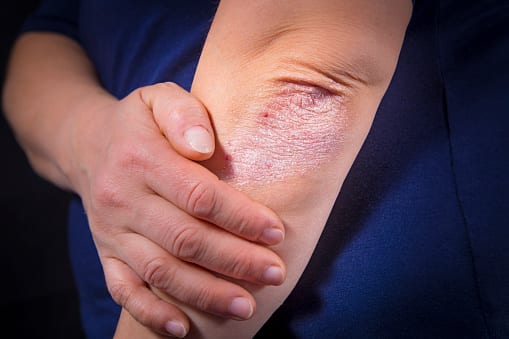 Research has clearly demonstrated that psoriasis is more common in families with members affected by psoriasis. About one-third of patients report having a relative with psoriasis. For example, if one parent has psoriasis, a child has about a 10% chance of having the disease. If both parents have psoriasis, a child has an approximately 50% chance of developing the disease.
The age of onset of psoriasis is variable, with most patients noticing characteristic skin lesions in late adolescence and early adulthood (15-35 yrs old). However, psoriasis may also develop during infancy and middle age. Most people develop thick patches of red skin which have a silvery-white scaly surface. These red, scaly patches are most typically seen on the elbows, knees, and trunk, but can appear anywhere on the body, including the scalp and genitals.
People with psoriasis are also at risk for developing an associated inflammatory joint disease, called psoriatic arthritis. This type of arthritis can cause slow destruction of the joints due to chronic inflammation and result in disability. Psoriatic arthritis occurs in 10 to 30 percent of patients with psoriasis.
Psoriasis is not a cosmetic problem. Nearly 60% of people with psoriasis report that the disease has a negative impact on their quality of life.
Most common autoimmune disease in U.S.
Onset at any age
Chronic, lifelong disease
Not contagious
Genetic and environmental factors suspected
Skin lesions may occur anywhere on the body
Increased risk for arthritis
Psoriasis and environmental factors
Environmental factors that may trigger a psoriasis outbreak or create a challenge to treatment include:
Viral or bacterial infections
Skin injuries such as insect bites, burns, or cuts
Some medications, including beta blockers, lithium, and antimalarial drugs
Stress
Sunburn
Alcohol
Immunosuppression: HIV, cancer chemotherapy
Psoriasis Treatment Options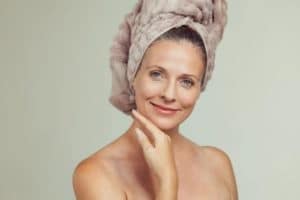 Therapy for psoriasis should always be directed towards the clearance of skin lesions as well as eliminating associated symptoms such as joint pain and arthritis.
Recent scientific advances in our understanding of psoriasis have led to the development of a new class of highly effective drugs for this disease, referred to as biologic agents. Biologic therapy has revolutionized the treatment of psoriasis. These medications are not only effective in clearing skin lesions but also ameliorate the debilitating symptoms of psoriatic arthritis. Biologic agents include Enbrel, Humira, Remicade, and Stelara, among others.
When biologic therapy is not indicated, many patients obtain effective psoriasis treatment with topical medications, XTRAC laser treatment, phototherapy using narrowband ultraviolet B (UV-B), as well as established systemic drugs such as methotrexate and cyclosporine. Psoriasis patients are thoroughly evaluated by our experienced dermatologists to determine which treatment is most appropriate.
Topical prescription medications
XTRAC laser treatment
Methotrexate
Narrowband UVB phototherapy
Biologic therapy (Enbrel, Stelara, Humira)
Cyclosporine
Psoriasis Treatment at The Menkes Clinic & Surgery Center
Dr. Andrew B. Menkes is recognized as a leader in the treatment of psoriasis in Northern California. Dr. Menkes has extensive experience and expertise in the use of the newest effective form of psoriasis treatment called biologic therapy. Biologic therapy can be extremely effective in clearing the skin lesions seen in psoriasis as well as the symptoms of psoriatic arthritis, which include pain and limited joint mobility.
Over the past decade, new biologic agents have revolutionized the manner in which psoriasis patients are successfully treated. Many patients find a remarkable improvement in their quality of life after the use of biologic therapy. Dr. Menkes is one of a few dermatologists in the Bay Area with a high level of expertise in the use of biologic therapies for patients with psoriasis.
The Menkes Clinic & Surgery Center's goal is to provide a state-of-the-art dermatology practice committed to serving patients with the most effective and scientifically proven therapies available. Contact our office today for your visit.
Schedule Your Consultation Today
If you're interested in learning more about psoriasis treatment please contact us for a consultation at 650-962-4600 or fill out our contact us form. We will discuss your needs and concerns, and determine your best course of action.