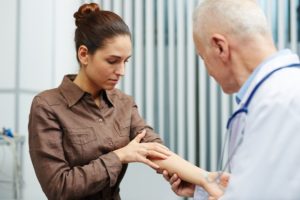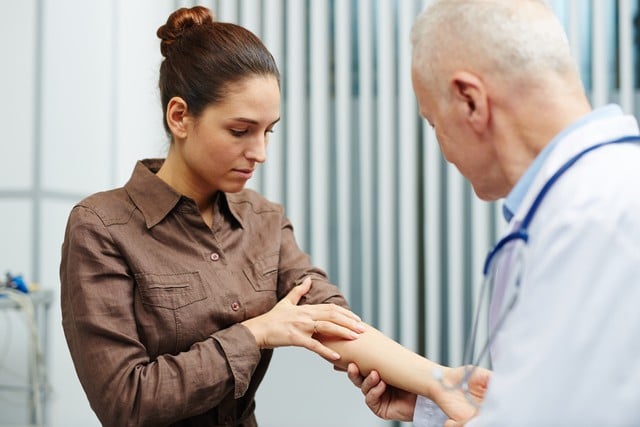 For the management of psoriasis, a patient's success depends on obtaining a quality provider who can diagnose the condition properly and provide the best modalities for long-term treatment. Psoriasis is a condition that is caused by an autoimmune disorder that causes the skin cells to grow and shed quickly on specific areas of the body. The condition can be difficult to manage for many patients, especially when it is severe and affects one's self-esteem and confidence. 
What forms of psoriasis might be present?
There are five primary types of psoriasis that can be diagnosed. They include: 
Plaque, or "discoid" psoriasis

Guttate psoriasis

Inverse psoriasis

Pustular psoriasis

Erythrodermic, or exfoliative psoriasis
The  most common type of psoriasis is plaque psoriasis, which cause the formation of raised skin patches that may appear red with silver or white-colored patches. They often appear on the knees and elbow, though can be present anywhere on the body. This type of psoriasis can be itchy and embarrassing for patients, making the need for effective treatment highly desirable. 
How to manage chronic psoriasis
Patients with psoriasis often reach out to a dermatologist at The Menkes Clinic to learn more about their condition and find effective ways of dealing with it throughout their lifetime. Below are several recommendations from our doctors regarding the care and management of psoriasis: 
Soften scales with regular bathes in warm water with oils, salts, or oatmeal

Apply lotion to the skin right away after a bath to moisturize

Manage stress and utilize relaxation techniques to avoid flare-ups

Stay away from cleansers, detergents, and chemicals that can aggravate psoriasis

Use the treatments provided by your dermatologist as recommended for the best results
Request a visit with our doctors at The Menkes Clinic today!
Mountain View, CA area patients who are ready to learn more about managing their chronic psoriasis are strongly encouraged to book a consultation visit with our doctors today. We are here to serve patients in the community with medical, surgical, pediatric, and cosmetic dermatology concerns, and have the combined experience between our doctors to provide the best possible care. Our facility is located in the Melchor Pavilion at 2490 Hospital Drive, Suite #201 and accepts new patients who call for an appointment at (650) 962-4600.