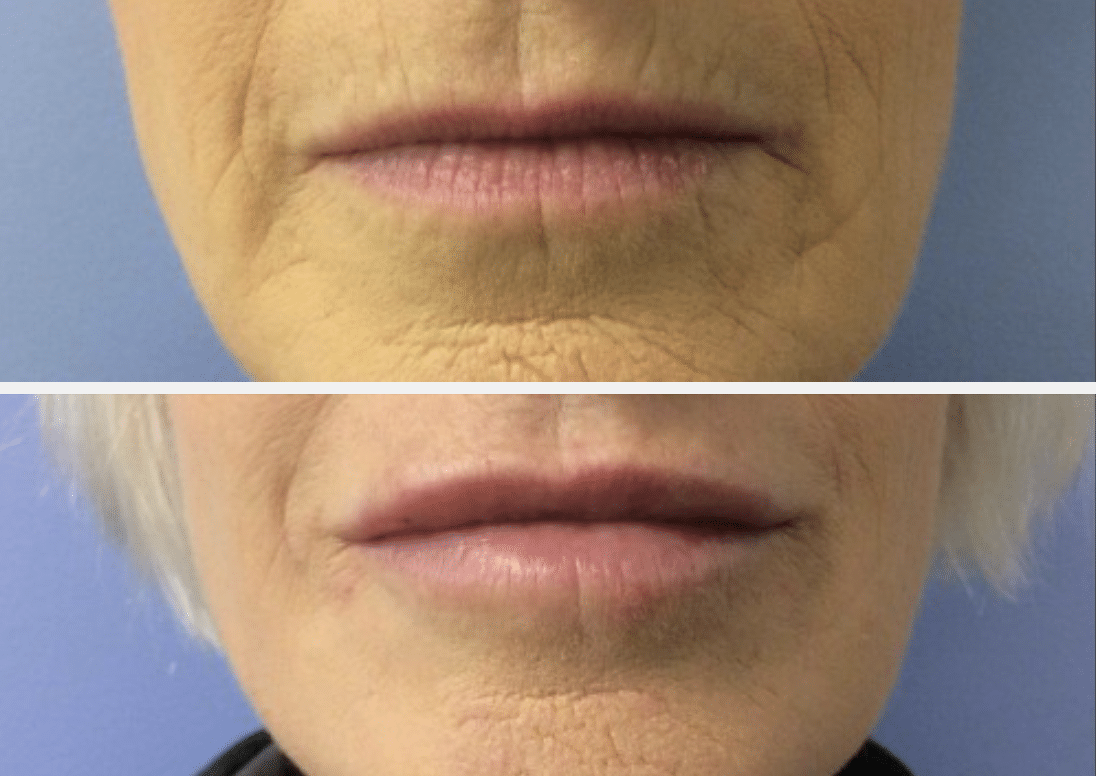 Smooth, perfectly shaped lips are an essential feature of a beautiful face. This is because lips serve to "frame" the teeth when we smile.
A lovely smile, as well as the appearance of our lips while at rest and while talking, often affects how we feel about ourselves, how we interact socially and even how we are perceived by others.
---
What is Lip Augmentation?
Natural-looking lip augmentation using hyaluronic acid (HA) injectable fillers such as Restylane and Juvederm can dramatically enhance your smile and improve your appearance unlike any other cosmetic skin procedure. HA is a naturally-occurring substance produced by humans and all animal species and consists of a sugar molecule manufactured in the lab. Side effects are rare and related to the injection procedure (such as bruising) rather than to the HA itself which has little if any risk for allergy and can be easily removed within seconds with hyaluronidase, an enzyme that is readily available in the dermatology office. The results of lip augmentation with HA fillers is immediate, takes approximately 10 to 20 minutes to perform in the office setting, and causes minimal lip swelling afterwards for a day or so. The results last from from 6 to 12 months.
Why Should I Consider Lip Augmentation?
Lips that are elegantly enhanced by HA fillers are soft and completely natural feeling. When treated properly, lips should have a subtle smoothness at the border where the lip itself meets the skin (called the vermilion). Injectable fillers in this lip border effectively erase smokers' lines by keeping the mouth well-defined and thereby prevent lipstick from migrating up and "bleeding" onto the skin.
Thin lips can mistakenly convey a sense tension or stress, while lips that droop at the corners may inadvertently indicate feelings of sadness or dissatisfaction.
By subtly increasing lip fullness and repositioning the angles of the mouth from a downward frown to a pleasant resting smile is easily achieved using HA fillers, and can remove 10 years off of your appearance.
Who is an Ideal Candidate for Lip Augmentation?
Making the decision whether or not to have lip augmentation isn't always be an obvious choice. You can start by looking at your lips in a mirror. Try saying, "Hello, how are you?" into the mirror. You may immediately notice the appearance of dynamic "smoker's lines" while talking that isn't seen when your lips are at rest. Smokers' lines are often seen in non-smokers and especially older individuals who are non-smokers. This can be unsettling and even a bit surprising since we don't typically look at our own lips while talking. Restoring lost volume in the lips will plump and smooth their appearance and can be an effective cosmetic enhancement at any age.
How is Lip Augmentation Performed?
The use of injectable HA fillers for lips can be easily and safely performed in all individuals aged 18 and older.
First, numbing the lips using a routine dental block is administered by the dermatologist just like at the dentist. For those with a history of cold sores on the lips due to herpes virus, a few days course of Valtrex or acyclovir pills will be prescribed and should be started by the patient on the day of the procedure to prevent triggering a herpes cold sore recurrence from the minor trauma due to needle injections.
Once the lips are completely numb, the treatment consists of small injections of HA filler which resembles a clear, liquid gel. The HA is placed at the lip margins of both the upper and lower lip, corners of the mouth (especially if they are starting to droop) as well as the pink/red fleshy areas of the lip to restore natural fullness and smooth texture.
Afterwards, ice may gently be applied to the lips to help prevent swelling and bruising, which may sometimes but not always, occur with treatment. Most patients leave the office immediately thrilled with the enhancement of their smile and appearance and then return in 6-9 months for additional maintenance treatment.
---
Achieving lovely, natural-appearing lips using hyaluronic acid (HA) fillers is a wonderful cosmetic enhancement which is completely natural appearing and requires little to no downtime. Schedule your appointment today!