Skin imperfections can be especially troubling on the face. The skin care professionals at The Menkes Clinic & Surgery Center are experienced in multiple ways to remove facial warts, for minimal impact on the complexion. If you are looking for a wart specialist "near me" in the Mountain View area, Dr. Andrew Menkes, Dr. Lillian Soohoo, and Dr. Krystle Wang are here to help.
Understanding warts
Warts are abnormal skin growths. They are typically small, with a rough, hard texture, and similar in color to your normal skin tone. Warts can cluster into larger growths. They are contagious, often spread by use of public showers, skin to skin contact, or sexual transmission. Individuals with a compromised immune system are more likely to get warts.
There are approximately 130 known strains of the human papilloma virus (HPV). Warts are caused by many types of HPV, as it attacks the squamous epithelium through a small cut or scrape. Each type of HPV affects a specific area of the body. Infection causes a thickening of various structures in skin, and enlargement of blood vessels.
Warts on the face
You have probably seen warts on the hands, or plantar warts on feet, but this common condition can occur on any body part. Types of warts that appear on the face include:
Flat warts – Flattened and flesh-colored, these warts usually occur in multiples.
Common warts – With a rounded top and grayish color. The texture is grainy and rough.
Filiform warts – Usually around the neck, under the chin, or on nose or mouth. They look like a little flap or tag, and are the same color as surrounding skin.
Warts are not cancerous, but since the appearance varies so much, they are easily misdiagnosed. It is important to have warts checked by a Board-certified dermatologist for accurate analysis. Professional care for facial warts is especially critical to minimize risk of scarring.
Schedule an appointment at The Menkes Clinic & Surgery Center right away if: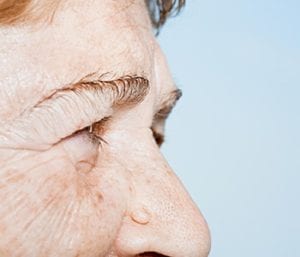 You develop a wart on a delicate, sensitive facial area such as mouth or nostrils.
It causes discomfort (for example, from clothing rubbing on a neck wart), or the wart itself is painful.
The growth bleeds, or you see signs of infection including red inflammation or pus.
The color of the growth changes.
You have diabetes or an immune deficiency condition.
Treating facial warts
The internet is awash with do-it-yourself treatments for warts. Some improve the condition, but they take time and are quite noticeable – duct tape, garlic, baking soda paste, or medicated bandages. Our doctors treat facial warts with medically-proven techniques.
Prescription-strength topical medications containing salicylic acid, or retinoid creams can be effective. Facial warts can be resolved in as little as a week with this method. However, it is not recommended for use around the eyes.
Cryotherapy involves freezing the wart with the application of liquid nitrogen. This is a good choice for fair-skinned individuals (it can lighten pigmentation on darker skin tones). Treatment takes only a few seconds, and feels like an ice cube touching skin. The doctor may be able to shave off the dead wart immediately. Then it takes about a week for full healing.
Surgical excision may be considered for a persistent wart that does not resolve with other, less invasive treatment. It can be appropriate for a facial area that is not so noticeable, such as under the jawline. While the wart is gone immediately, there is a healing period and risk of minor scarring.
Laser removal is the contemporary treatment for quick and complete removal of a facial wart. Using a pulsed dye laser, a beam of focused light in a specific wavelength is directed at the growth, to heat and destroy it. Laser removal is safe for pregnant women, requires only local numbing, and has minimal risk of scarring. The wart is gone when you leave the office, and healing typically takes just a few days.
Why choose The Menkes Clinic?
Our practice is dedicated to bringing the latest advances in healthy skin care to patients throughout the Mountain View, Los Altos, Los Gatos, San Jose, and Saratoga areas of California. With a carefully-selected team of Board-certified dermatologists and other highly-trained providers, your complexion is in good hands. Call (650) 962-4600 to become a patient.