Regardless of your age, brown spots on your face, head, or hands add years to your appearance. Dr. Andrew Menkes, Dr. Krystle Wang, Dr. Lillian Soohoo, and their team of experienced providers help men and women in the Mountain View area achieve more youthful skin tone with personalized treatment.
What causes brown spots?
Some brown spots, like freckles or café au lait birthmarks, are the result of congenital clustering of pigments or blood vessels in skin. Most brown spots, though, are the result of sun exposure.
Skin contains cells called melanocytes, which produce melanin, the pigment that gives color to skin, lips, and hair. Exposure to ultraviolet radiation from the sun's rays mutates the DNA of healthy skin, causing melanin to clump together rather than dispersing evenly.
They are called age spots because the effect is cumulative. Spots become darker and more of them appear with each passing year. The presence of age spots is a sign that your skin has experienced more UV exposure than it can handle, which also indicates increased risk of skin cancer. If you have brown spots, a visit to a Board-certified dermatologist is definitely in order.
Can brown spots be removed?
For many patients, the answer is yes. In nearly all cases, brown spots can be noticeably lightened for a more even and youthful skin tone.
Treatment depends on the size and depth of damage. Surface spots can usually be treated with exfoliation – removal of outer layers of skin to get rid of dead and damaged cells. More significant spots may require laser or light therapies that penetrate deeper layers, stimulating skin's natural regenerative processes. In all situations, a thorough sun protection strategy is crucial to preventing further discoloration.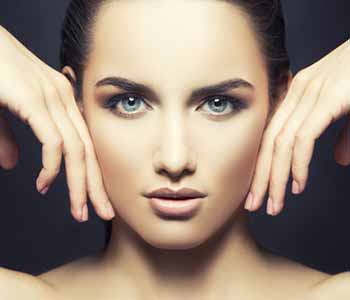 Brown spot treatment is available in Mountain View
The Menkes Clinic & Surgery Center is dedicated to bringing the latest and most effective treatment technologies to patients in the Mountain View area. After a thorough analysis of your skin condition and medical history, they design a personalized treatment plan that may include:
Chemical peels – This technique removes surface layers of skin without abrasion. Mild peels fade lighter brown spots, while a series of stronger peels lightens dark spots and evens out skin tone. You can expect improvement in overall skin condition, fine lines and wrinkles, and pore size with this and all the following treatments.
Clear + Brilliant – A comfortable, no-downtime therapy for beautiful skin tone. This fractional laser creates a multitude of energy pinpoints that kickstart production of collagen and fresh skin cells. This treatment is gentle enough to schedule monthly.
SilkPeel – This multi-faceted approach is safe for all skin types. Treatment resurfaces the complexion, extracts impurities from pores, and infuses skin with a beneficial serum. In less than an hour, skin is plumped with hydration and radiant. Regular SilkPeel dermal infusions may also be recommended to maintain the results of more aggressive therapies.
IPL – Similar to laser treatment, intense pulsed light delivers broad spectrum energy rather than one wavelength. It breaks up pigments in brown spots as well as small, surface blood vessels, while stimulating collagen remodeling. There is no downtime, and usually one to five sessions accomplish desired results.
ActiveFX – This fractional CO2 laser creates a pattern of microcolumns across surface skin that shortens recovery time while effectively reducing hyperpigmentation.
Fraxel Restore – Fraxel is one of the most trusted names in aesthetic laser instruments. This technique targets damaged skin cells in deeper layers, for revitalization of tone and texture. Treatment takes less than a half hour, is well tolerated, and has minimal downtime. Expect about five sessions to fade darker brown spots.
PiQo4 – This is the fastest and most powerful laser for removal of skin pigmentation marks. Nanosecond pulses of energy break up brown spots with precise penetration depth, with a reduction in treatment time of about 40 percent.
Once irregular skin tone has been addressed, the doctor will talk with you about maintenance. This may involve periodic re-treatment, as well as physician grade sun protection and skin care products. We carry high quality lines such as SkinMedica, Alastin Skincare, and Skinbetter Science, with the professional guidance to use them effectively.
You don't have to live with brown spots. Call The Menkes Clinic & Surgery Center in Mountain View at (650) 962-4600  to learn more about your treatment options.