The average daytime high temperature in Mountain View is 69.3 degrees, with many months in the high 70s. Yet countless women of all ages do not take advantage of the chance to wear cool shorts, flirty skirts, or stylish swimwear. Why? They are embarrassed by the appearance of cellulite, a condition that affects men, too. An FDA-approved treatment called Cellfina is making aesthetic news. You can find it "near me" at The Menkes Clinic & Surgery Center.
Demystifying cellulite 
Cellulite (correctly pronounced cell-u-leet) hasn't always plagued mankind. Historically, as shown in nude paintings of the Victorian era, it was considered attractive as an indicator of high social status and wealth. Those with cellulite had plenty of rich foods and servants to handle hard work.
In our modern culture, toned and smooth body contours are favored. But cellulite doesn't discriminate. Even slim, fit individuals may have lumpy, uneven skin. Let's look at some of the reasons why . . . and dispel some of the misconceptions about cellulite.
Cellulite is not just excess fat or some special type of fat, although fat is part of the equation that creates an orange peel or cottage cheese effect. Beneath skin is fascia, a sheet of connective tissue. Fascia is attached to muscles and underlying tissues with perpendicular connective bands of collagen fibers. These attachment points create a meshwork that presses downward on subcutaneous fat just beneath skin. At the skin's surface, the result is dimples where the bands pull down, and lumps where fat pushes up.
Men are less prone to cellulite than women are, because their connective collagen tends to form a tighter pattern. In addition, men generally have thicker skin. Most women have cellulite somewhere on their bodies, commonly buttocks, thighs, or abdomen, compared to only about ten percent of men.
Due to thinning skin and laxity, and loss of muscle tone, risk of cellulite increases with age as fibrous bands get stiffer. However, it can be seen even in young people due to hormones, genetics, and fat to muscle ratio.
Weight loss, without healthy eating, proper hydration, and muscle building, can worsen cellulite. While liposuction reduces pockets of deeper fat, it does not remove the upper layer that causes cellulite puckers.
With dedicated long-term use, prescription strength retinol cream can thicken skin, which may slightly improve appearance of cellulite. Otherwise, no topical lotion or preparation has been proven effective.
Tanning breaks down the building blocks that keep skin firm and elastic, so sun damage makes cellulite more visible. 
Cellfina: How does it work?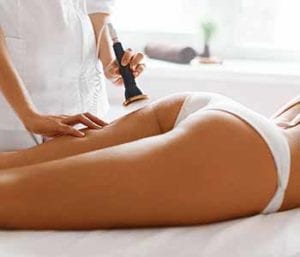 The fibrous bands (septae in medical terminology) that accentuate cellulite cannot be broken or stretched with fascial massage. The only way to release the tension and change the underlying structure is with surgical intervention. The minimally-invasive Cellfina technique makes the process pinpoint precise with little surgical risk or downtime, and results that last at least two years.
Treatment is ideal for individuals who are not significantly overweight and have troublesome cellulite divots up to thumbnail size. The doctor can treat about 30 dimples in an hour-long procedure.
Areas for treatment are marked.
Skin is numbed with injection of anesthetic liquid.
A special suction device stabilizes skin.
The doctor inserts a tiny, sharp needle to cut the connective band. Improvement is immediate!
Incisions are so small that no sutures are needed and there is no scarring.
There may be some soreness, bruising, or swelling at treatment sites, but it typically resolves in a few days, with only over the counter analgesics needed.
Compression garments must be worn for a week following the procedure for optimal results.
Treated bands of connective tissue do not grow back, so improvement in the appearance of the skin is long lasting.
Knock out cellulite with a one-two punch
Cellfina is an effective treatment for cellulite on its own. However, it can be combined with FDA-approved Thermage skin tightening, for more dramatic results. Noninvasive Thermage uses radiofrequency to stimulate natural production of collagen, for thicker, firmer skin that looks smooth and taut.
Be assured that Cellfina is available "near me." Schedule a consultation at The Menkes Clinic & Surgery Center, for a cellulite reduction plan tailored to your unique physiology. Dr. Andrew Menkes, Dr. Lillian Soohoo, and Dr. Krystal Wang are eager to help you meet your aesthetic goals. Their number in Mountain View is (650) 962-4600.