Characterized by increased sensitivity to many environmental factors, eczema is a common skin condition that affects people of all ages. It is believed to be influenced by an over-reaction of the immune system to exposure to certain substances or conditions. Although the condition is not completely understood, we can provide specialized eczema care and help our patients find relief and better understanding of their triggers. Benefit from our experience to help you find the best solution available.
For more information regarding our eczema care, please call 650-962-4600. There, one of our Mountain View associates can answer your questions and can help you book an appointment. You can also send us a message by filling out the form found on this page, and we will contact you as soon as possible.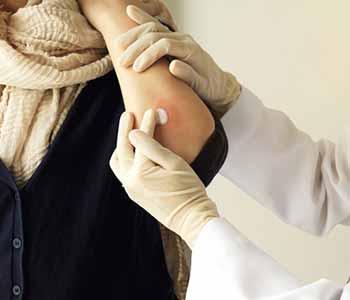 "*" indicates required fields
Mountain View Eczema Care Solutions
Treatment for eczema varies based on the type and needs of the patient. There are seven types of eczema, each one with unique triggers and symptoms. It is possible for patients to have more than one type at once. For the best eczema care, our dermatologists can work with you to determine the type, or types, of eczema you may have; Providing you with the medications and the knowledge to manage each type.
Complete Skin Health Services in Mountain View
While we are ready to provide complete eczema care, we also feature comprehensive skin health services. Our team comprises an experienced team that specializes in medical and cosmetic dermatology. Enabling us to help ensure the best results and patient experience available. Benefit from services like alopecia treatment, psoriasis care, body hair removal, melanoma care, fat reduction, acne treatment, scar revisions, and so much more.
If you would like to learn more, please call 650-962-4600 and speak with one of our tea members. They will be available to provide more information about our services and can discuss your needs in more detail. To send us a message instead, please fill out the form found on this page, and we will contact you shortly.