Gynecomastia is the condition of excess breast tissue in men. The procedure involves removing excess breast glandular tissue in men that lies immediately behind the nipple. This requires an incision to be hidden within the nipple. If you have excess skin, then another type of incision may be required to remove this skin.
You will schedule a consultation with Dr. Sweeney during which he will thoroughly examine you and listen to your concerns and priorities. All of the incisions will be outlined and shown to you. The reasoning behind each incision pattern will be explained, then you can choose the option that best suits the specific problem. Dr. Sweeney will also show you illustrations and before and after photos of patients that have had gynecomastia surgery.
Dr. Sweeney will review the procedure with you and discuss any remaining questions to ensure total comfort and ease. At this time, Dr. Sweeney may mark the surgical site with a surgical marking pen to prepare for the procedure.
Liposuction, excision, or both are the techniques Dr. Sweeney uses for the procedure. For the liposuction portion of the procedure, a thin hollow tube (cannula), is inserted through several small incisions. The cannula pushes and loosens excess fat which can then be suctioned out.
The excision portion of the procedure will remove excess skin and glandular tissue. Excision techniques could also be used to reduce the size of the nipple or areola and to reposition the nipple to a more natural, masculine position. Dr. Sweeney will help you choose the incision pattern that is right for you.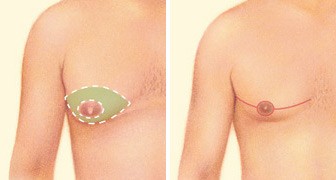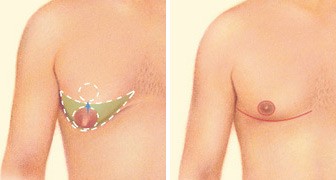 After the procedure, the patient is sent to the recovery room for several hours. Then the patient is typically discharged home with instructions and follow-up to start their recovery.
As the patient, you will be asked to do a couple of things while recovering to ensure your result is optimal:
After the procedure you will be placed in a compression wrap, which will be removed five days after your operation. At this time, you will be asked to put a compression shirt on. These are readily available at sports stores. You will need a compression shirt one size smaller than your normal size. You need to wear this compression shirt for one to two months.
Do not sleep on your stomach for four to six weeks as this can worsen your scar.
You may return to a desk job or a job without physical demands within a week, for all other jobs please discuss with Dr. Sweeney.
Keep your heart rate low with any activity, exercise, sex, for four weeks.
After four weeks you can begin cardio exercise.
No heavy lifting for six weeks, after six weeks then you can return to normal activity.
Return to the office for suture removal on the fifth day after surgery and tenth day after surgery.
SCHEDULE YOUR PERSONALIZED CONSULTATION
Schedule your personalized consultation by clicking the link below to find out what treatment is best for you.