What Is a Breast Reduction
Breast reduction involves reducing the size of the breast by removing excess fat, glandular tissue, and skin. In most patients, this also includes lifting the breast. Reasons for breast reduction are usually functional but can also be aesthetic. Patients with larger breasts can experience neck pain, back pain, irritation underneath the breast fold, difficulty exercising, or a combination of all the above.
You will schedule a consultation with Dr. Sweeney during which he will thoroughly examine you and listen to your concerns and priorities. Dr. Sweeney will show you illustrations and photos of patients that have had a breast reduction or a breast reduction and lift.
All of the incisions will be outlined and shown to you. The reasoning behind each incision pattern will be explained, then you may choose the option that best suits you. In order to achieve the breast size that you desire, Dr. Sweeney asks that you show him three pictures:
One picture showing a picture of breasts that are too big for you.
One picture showing a picture of breasts that are too small for you.
One picture showing a picture of breasts that are the perfect size for you.
Dr. Sweeney will review the procedure with you and discuss any remaining questions to ensure total comfort and ease. At this time, Dr. Sweeney may mark the surgical site with a surgical marking pen to prepare for the procedure.
During a breast reduction, patients are under general anesthesia. The process will be discussed with you, and the anesthesiologist will ensure you are comfortable.
Incisions will be made in the pattern that you and Dr. Sweeney agreed will work best for you.
There are two incision pattern options:
1 – Lollipop Incision
2 – Anchor Incision (lollipop incision, plus an incision in the breast fold)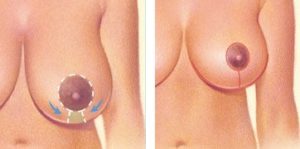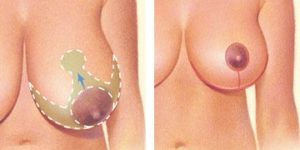 Step 3: Removing Excess Tissue and Lifting
Once the incisions are made, the nipple can be repositioned and the size of the areola can be reduced, if desired. Next, the excess tissue is removed and the breasts are lifted into their new position.
Step 4: Closing the Incisions
The incisions are then closed and help complete the reshaping of the breasts. Sutures are layered deep within the breast tissue to support the breasts. Sutures, skin adhesives and surgical tape may be used to close the skin.
Some incision lines resulting from breast revision are concealed in the natural breast contours; however, others are visible on the breast surface. Incision lines are permanent, but in most cases will fade and significantly improve over time.
Many women desire the smallest scar possible. However, Dr. Sweeney will recommend the incisions which best suit your anatomy.
After the procedure the patient is sent to the recovery room for several hours. Then the patient is typically discharged to a recovery center for one to two days to help start the recovery process. Some patients elect to start their recovery at home.
As the patient, you will be asked to do a few things while recovering to ensure your result is optimal:
1 – Refrain from raising your arms above shoulder height for ten to fourteen days.
2 – Do not sleep on your stomach for four to six weeks, as this can worsen your scar.
3 – You may return to a desk job or a job without physical demands within a week, for all other jobs please discuss with Dr. Sweeney.
4 – No raising your heart rate with exercise, sex, or any other activity for four weeks.
5 – After four weeks you can begin cardio exercise.
6 – No heavy lifting for six weeks, after six weeks then you can return to normal activity.
7 – Return to the office for suture removal on the fifth day after surgery and the tenth day after surgery.
SCHEDULE YOUR PERSONALIZED CONSULTATION
Schedule your personalized consultation by clicking the link below to find out what treatment is best for you.