What is a Breast Lift with Implants?
Also called an augpexy or augmentation mastopexy, a breast lift with implants is similar to breast lifting alone. However, there are some important differences, mainly, the addition of an implant. A breast lift will lift your breast up, while the implant will help with shape, fullness, and feel of the breast.
Patients often desire a breast lift with implants when the breast has started to droop. This can happen at any age, but usually occurs with large breasts, after weight loss, following pregnancy, or simply with age.
During your consultation with Dr. Sweeney, he will thoroughly examine you and listen to your concerns and priorities. All of the incisions will be outlined and shown to you. The reasoning behind each incision pattern will be explained, then together we can choose the option that best suits you. Prior to surgery, Dr. Sweeney will ask you to bring three topless pictures of women that show:
1 – Breasts that are too small for your liking
2 – Breasts that are too big for your liking.
3 – Breasts that are ideal for you.
Dr. Sweeney will share illustrations and patient photos with you that show each of the aforementioned procedures. Using these three pictures Dr. Sweeney will help find the breasts that are perfect for you.
Dr. Sweeney will review the procedure with you and discuss any remaining questions to ensure total comfort and ease. At this time, Dr. Sweeney may mark the surgical site with a surgical marking pen to prepare for the procedure.
Your breast lift procedure can be achieved through a variety of incision patterns and techniques.
The appropriate technique for you will be determined based on:
Breast size and shape
The size and position of your areolas
The degree of breast sagging
Skin quality and elasticity as well as the amount of extra skin
Medications are administered for your comfort during the surgical procedure. The choices include intravenous sedation and general anesthesia. Your doctor will recommend the best choice for you.
These are three common incision patterns: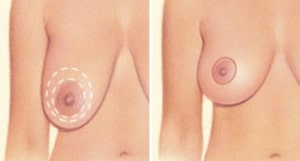 2. Around the areola and vertically down from the areola to the breast crease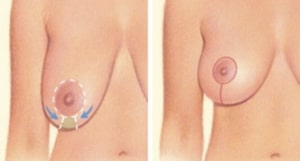 3. Around the areola, vertically down from the breast crease and horizontally along the breast crease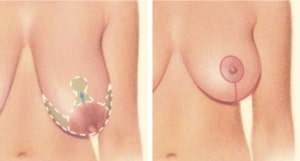 Step 3: Reshaping Your Breasts
After your doctor makes the incisions:
The underlying breast tissue is lifted and reshaped to improve breast contour and firmness.
The nipple and areola are repositioned to a natural, more youthful height.
If necessary, enlarged areolas are reduced by excising skin at the perimeter.
Excess breast skin is removed to compensate for a loss of elasticity.
Sizers will be placed to determine the appropriate implant size discussed pre-operatively.
When the ideal size has been chosen, the final implant will then be placed.
Step 4: Closing The Incisions
After your breasts are reshaped and excess skin is removed, the remaining skin is tightened as the incisions are closed.
Some incision lines resulting from breast lift are concealed in the natural breast contours; however, others are visible on the breast surface. Incision lines are permanent, but in most cases will fade and significantly improve over time.
Many women desire the smallest scar possible. However, your plastic surgeon will recommend the incisions which best suit your anatomy.
Sutures are layered deep within the breast tissue to support the newly shaped breasts. Sutures, skin adhesives and surgical tape may be used to close the skin.
After the procedure the patient will rest in the recovery room for several hours. Then, the patient is typically discharged home with a soft bra and soft pads to protect the patient's breast.
As the patient, you will be asked to do a couple of things while recovering to ensure your result is optimal:
1 – Refrain from raising your arms above shoulder height for 10-14 days.
2 – Do not sleep on your stomach for 4-6 weeks as this can worsen your scar.
3 – You may return to a desk job or a job without physical demands within a week. For all other jobs, please discuss with Dr. Sweeney.
4 – Keep your heart rate low with and activity, exercise, or sex for 4 weeks.
5 – After 4 weeks you can begin cardio exercise.
6 – No heavy lifting for 6 weeks.
7 – Return to the office for suture removal on the fifth day after surgery and the tenth day after surgery.
8 – No underwire bras, unless specifically cleared by Dr. Sweeney.
9 – Massaging is not done with patients that have lift incisions because we do not want to stretch or worsen the scar.
SCHEDULE YOUR PERSONALIZED CONSULTATION
Schedule your personalized consultation by clicking the link below to find out what treatment is best for you.